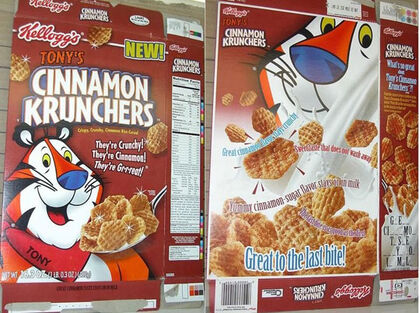 Description
"Crispy, Crunchy, Cinnamon Rice Cereal"
Notes
This cereal boasted that its cinnamon-sugar flavor wouldn't wash off in milk. This was also the first non-flake cereal variety endorsed by Tony the Tiger.
Company
Kellogg's
Spokesperson
Tony the Tiger
Introduced
2003
Discontinued
2005
Marketing
The slogan: "Gr-r-reat 'till it's gone."
Other Varieties
Banana Frosted Flakes, Cocoa Frosted Flakes, Frosted Rice, Whole Grain Tiger Power
Ad blocker interference detected!
Wikia is a free-to-use site that makes money from advertising. We have a modified experience for viewers using ad blockers

Wikia is not accessible if you've made further modifications. Remove the custom ad blocker rule(s) and the page will load as expected.