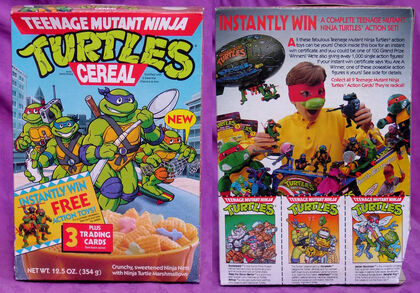 Description
Edit
"Sweetened Cereal"
When introduced, this cereal was described on the box as "crunchy, sweetened 'ninja nets' with 'ninja turtle' marshmallows". Pizza-shaped marshmallows were later added.
The cereal had many gimmicks and contests, such as one to win a complete collection of TMNT action figures, as well as free premiums inside the box like mini-comics, a pouch of "green ooze" syrup topping, and even the famous "Turtle Bowls", cereal bowls in the shape of a Ninja Turtle.
Ralston
Introduced
Edit
1989
Discontinued
Edit
1995
Marketing
Edit
Ad blocker interference detected!
Wikia is a free-to-use site that makes money from advertising. We have a modified experience for viewers using ad blockers

Wikia is not accessible if you've made further modifications. Remove the custom ad blocker rule(s) and the page will load as expected.