Description
Edit
"Sweetened cereal scoops with crunchy cones"
Ice Cream Cones cereal was available in three flavors: vanilla, chocolate, and chocolate chip.
The cereals consisted of ice cream cone-shaped pieces and round pieces intended to resemble scoops of ice cream. If a cereal eater was so inclined, the scoop pieces actually fit comfortably on the cone pieces to create a tiny ice cream cone replica.
General Mills briefly reintroduced Ice Cream Cones Cereal in 2003 to celebrate the 100th anniversary of the first ice cream cone. According to Tommy Hillman, an associate marketing manager for the company at the time, "Ice cream cones have such a great connection with happy, carefree times. We're excited to offer a cereal that provides a fun new way to experience ice cream cones."
The revamped cereal was describer in a May 19, 2003 press release as featuring "crunchy mini ice cream cones along with chocolatey chip ice cream scoop pieces".
General Mills
Advertising Character
Edit
Ice Cream Jones
Introduced
Edit
1987
Discontinued
Edit
1987
Reintroduced
Edit
2003
Discontinued
Edit
2003
Marketing
Edit
Commercials for the cereal featured an animated soda jerk on an old-fashioned pedal bike called Ice Cream Jones. Jones was customarily shown riding a bicycle with an ice cream freezer attached to the front. In the commercials, he would deliver Ice Cream Cones cereal to kids who were anxiously awaiting his arrival.
Ice Cream Cones Jingle
My name's Ice Cream Jones/'I'm bringing the kids my Ice Cream Cones/A crunchy new cereal for breakfast/The great taste of ice cream cones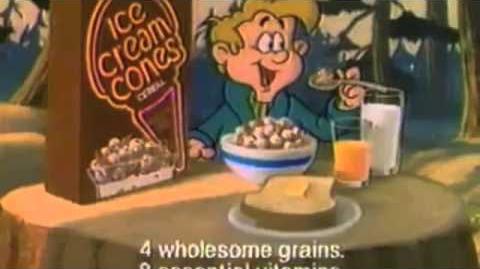 Ad blocker interference detected!
Wikia is a free-to-use site that makes money from advertising. We have a modified experience for viewers using ad blockers

Wikia is not accessible if you've made further modifications. Remove the custom ad blocker rule(s) and the page will load as expected.