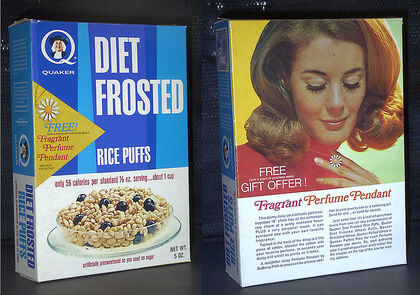 Quaker simultaneously introduced Diet Frost Rice Puffs and Diet Frosted Wheat Puffs.
The cereals were touted as the "breakfast of losers" in magazine ads. A one cup serving of the Rice cereal contained only 56 calories and the same size serving of the Wheat cereal had 51 calories.Despite these impressively numbers, the Diet Frosted line disappeared shortly after its introduction.
Quaker
Introduced
Edit
1967
Discontinued
Edit
1967
Marketing
Edit
Diet Frost Rice Puffs and Diet Frosted Wheat Puffs were usually advertised in tandem. In one series of ads, the Quaker man was featured saying, "I feel thinner already."
Another ad showed a middle aged man proudly stretching a pair of pants that had become too large for his body.
Other Varieties
Edit
Diet Frosted Wheat Puffs
Ad blocker interference detected!
Wikia is a free-to-use site that makes money from advertising. We have a modified experience for viewers using ad blockers

Wikia is not accessible if you've made further modifications. Remove the custom ad blocker rule(s) and the page will load as expected.