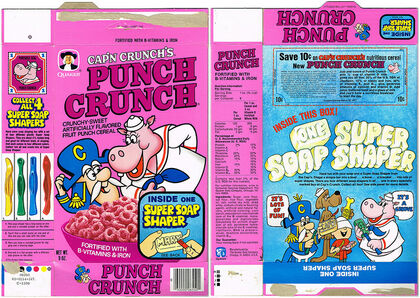 Description
Edit
Crunchy-Sweet Artificially Flavored Fruit Punch Cereal
These fruit-flavored cereal rings were fortified with B-Vitamins & Iron.
In the early '70's Quaker released three new additions of Cap'n Crunch cereals: Punch Crunch, Vanilly Crunch, Cinnamon Crunch.
Quaker
Cap'n Crunch and Harry S. Hippo, a hippo in a dandy sailing uniform
Introduced
Edit
1970
Discontinued
Edit
1979
Marketing
Edit
A television commercial described Punch Crunch like this: "Little pink rings with a big pink flavor just like fruit punch... a dandy part of a nutritious breakfast."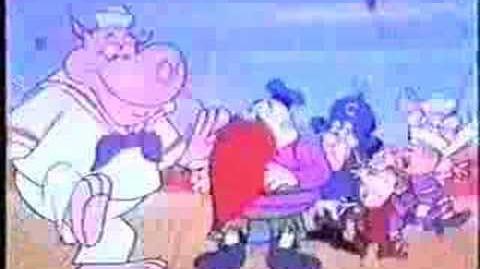 Other Varieties
Edit
Cap'n Crunch, Cap'n Crunch's Crunch Berries, Peanut Butter Crunch, Vanilly Crunch, Cinnamon Crunch, Choco Crunch, Christmas Crunch, Deep Sea Crunch, Oops! All Berries, Halloween Crunch, Galactic Crunch Choco Donuts, Soft Crunch, Home Run Crunch, Cap'n Crunch's Mystery Volcano Crunch, Cap'n Crunch's Oops! Smashed Berries, Cap'n Crunch's CoZmic Crunch, Polar Crunch, Cinnamon Roll Crunch, Cap'n Crunch's Crunch Treasures