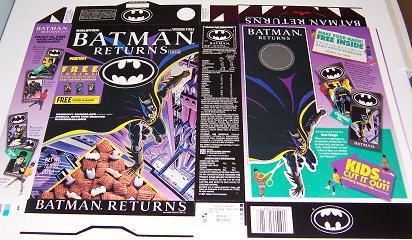 Description
Edit
"Crunchy chocolate cereal with fun-shaped marshmallows"
The cereal pieces resembled Chex cereal, and the marshmallows came in the shapes of Batman's mask, Batman's famous bat-shield symbol, the bat car and the Penguin's top hat.
The cereal was a tie-in promotion for the 1992 film Batman Returns directed by Tim Burton.
Ralston
Advertising Character
Edit
Batman
Introduced
Edit
1992
Discontinued
Edit
1997
Other Varieties
Edit
Batman, The Batman (Post)
Ad blocker interference detected!
Wikia is a free-to-use site that makes money from advertising. We have a modified experience for viewers using ad blockers

Wikia is not accessible if you've made further modifications. Remove the custom ad blocker rule(s) and the page will load as expected.