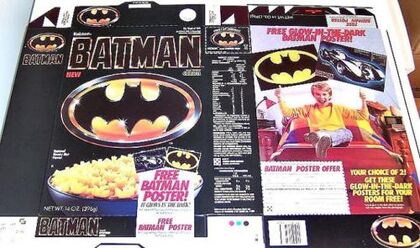 Description
Edit
"Batman Based Sweetened Cereal"
The cereal pieces in Batman cereal were made to resemble the shape of a bat.
The cereal was described on the box has having a "natural honey nut flavor".
Batman cereal was a promotional tie-in for the 1989 Tim Burton film.
Ralston
Introduced
Edit
1989
Discontinued
Edit
1989
Marketing
Edit
A television commercial for the cereal called it "a smashing taste... a honey nut flavored part of your complete breakfast."
Other Varieties
Edit
Batman Returns, The Batman (Post)